Thursday, October 26
6:30 - Thursday, December 21
6:30 pm
Washington, District of Columbia 20036
Event Information
The Middle East Institute's Department of Languages and Regional Studies is pleased to announce our regional studies course being offered for beginner to intermediate students of any age who wish to gain a better understanding of today's issues facing the Middle East.
Dates & Time
October 26th to December 21st
Thursdays, 6:30 PM to 8:00 PM
Course Description
This course will offer students an in depth look into Iran, Saudi Arabia, and the Gulf, covering regional rivalries, tensions, and alliances through weekly lectures and discussions led by MEI's renowned experts. Key issues will include the Political Economy of the Gulf, Security, and a Gulf perspective on current events in and outside of the region.
Tuition
$320
Contact Information
Middle East Institute
1319 18th Street NW
Washington DC 20036
languages@mei.edu
202-785-2710
Course Overview
Rentier States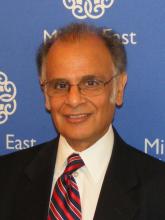 Zubair Iqbal, Scholar
Prior to joining the MEI as adjunct scholar in 2008, Dr. Zubair Iqbal worked with the International Monetary Fund (IMF) for 35 years, retiring in 2007 as Assistant Director of the Middle East and Central Asia Department. Before joining the IMF, Iqbal worked as Senior Research Fellow, Department of Economics, Islamabad University, Islamabad, Pakistan.
At the IMF, Iqbal held multiple postings ranging from those for the development of macroeconomic and exchange and trade policies for adjustment and growth in member countries, strategies for IMF-member country relations, design of adjustment programs for the balance of payments assistance and technical support. During the period, Iqbal participated in missions to 54 countries in Africa, Asia, the Middle East, Europe, and Latin America. During the last two decades, the primary focus was on the Middle Eastern and Central Asian countries, including as mission leader to 16 countries, both oil producers and oil importers. He also served as senior advisor to the Saudi Arabian Executive Director to the IMF. In addition to operational work, Iqbal conducted and guided research in trade policy issues, role and effectiveness of foreign aid, external debt, Islamic banking and finance, regional integration (primarily in the Middle East), and transition from oil dependence to more diversified economies. In the process, he wrote or edited 5 books and over forty articles in the IMF and external research publications.
While at the MEI, Iqbal has coordinated discussions of the Working Group on Pakistan's economy and has been writing notes and articles on regional developments, including Pakistan's economic challenges, factors underlying the democratic movement in the Arab world, and outlook for the future. In addition, he has been commenting on the regional developments on the Voice of America, BBC, and Bloomberg, besides national and international newspapers
Saudi Arabia's Evolving Regional Influence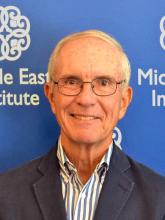 Thomas Lippman, Scholar
Thomas W. Lippman is an award-winning author and journalist who has written about Middle Eastern affairs and American foreign policy for more than three decades, specializing in Saudi Arabian affairs, U.S.- Saudi relations, and relations between the West and Islam. He is a former Middle East bureau chief of the Washington Post, and also served as that newspaper's oil and energy reporter. Throughout the 1990s, he covered foreign policy and national security for the Post, traveling frequently to Saudi Arabia and other countries in the Middle East. In 2003 he was the principal writer on the war in Iraq for Washingtonpost.com. Prior to his work in the Middle East, he covered the Vietnam war as the Washington Post's bureau chief in Saigon.
Geopolitics of the gulf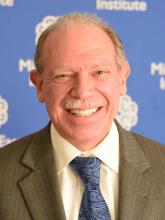 Amb.Gerald Feierstein, Director for Gulf Affairs and Government Relations
Amb. (ret.) Gerald Feierstein is director for Gulf affairs and government relations at MEI. He retired from the U.S. Foreign Service in May 2016 after a 41-year career with the personal rank of Career Minister. As a diplomat he served in nine overseas postings, including three tours of duty in Pakistan, as well as assignments in Saudi Arabia, Oman, Lebanon, Jerusalem, and Tunisia. In 2010, President Obama appointed Amb. Feierstein U.S. Ambassador to Yemen, where he served until 2013. From 2013 until his retirement, Amb. Feierstein was Principal Deputy Assistant Secretary of State for Near Eastern Affairs.
In addition to his career-long focus on the Near East and South Asia, Amb. Feierstein also played a prominent role in developing and implementing State Department policies and programs to counter violent extremism.  As Deputy Coordinator and Principal Deputy Coordinator in the State Department's Counter-Terrorism bureau, Amb. Feierstein led the development of initiatives to build regional networks to confront extremist groups as well as to counter terrorist financing and promote counter-terrorism messaging.  He continued to focus on defeating terrorist groups through his subsequent tours as Deputy Chief of Mission in Pakistan and as Ambassador to Yemen.
Gulf Security and US Policy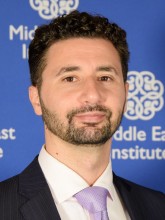 Senior Fellow and Director of Defense and Security Program
Bilal Y. Saab is senior fellow and director of the Defense and Security Program at the Middle East Institute. He specializes in the Levant and the Persian Gulf. Previously, he was senior fellow and director of the Middle East Peace and Security Initiative at the Atlantic Council's Brent Scowcroft Center on International Security, where he also created and chaired the Gulf Policy Working Group and led the Middle East Crisis Simulation Series. Saab is a term member with the Council on Foreign Relations.
A native of Lebanon, Saab has experience living in the Middle East for more than two decades. Throughout his career, Saab held various research and analytic positions in the United States, Europe, and the Middle East including at Brookings, CSIS, Center for Nonproliferation Studies, Center for the Study of Terrorism and Political Violence, Middle East Institute, and Lebanese Center for Policy Studies. A prolific and widely published scholar in peer-reviewed academic and policy journals (for a list of publications and speaking engagements please consult the publications page of his personal website), he is often called upon to brief and publicly testify before various executive and legislative agencies in the U.S. Government and European governments. Saab has contributed to and appeared on American and international media outlets including NPR, PBS, Associated Press, Washington Post, New York Times, Wall Street Journal, New Yorker, and Bloomberg.
Iran and the GCC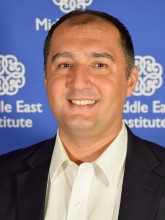 Alex Vatanka, Senior Fellow
Alex Vatanka (الکس وطن خواه) specializes in Middle Eastern regional security affairs with a particular focus on Iran. From 2006 to 2010, he was the managing editor of Jane's Islamic Affairs Analyst. From 2001 to 2006, he was a senior political analyst at Jane's in London (UK) where he mainly covered the Middle East. Alex is also a senior fellow in Middle East Studies at the US Air Force Special Operations School (USAFSOS) at Hurlburt Field and teaches as an adjunct professor at DISAM at Wright-Patterson AFB.
He has lectured widely for both governmental and commercial audiences, including the US Departments of State and Defense, US intelligence agencies, US Congressional staff, and Middle Eastern energy firms.
Beyond Jane's, the Middle East Institute and the Jamestown Foundation, he has written for such outlets as The Christian Science Monitor, Foreign Affairs, Americas Quarterly, CNN.com, Al Monitor, the Journal of International Security Affairs, BBC Persian Online, The National Interest, The World Today, PBS, Daily Beast, the Jerusalem Post, Journal of Democracy and the Council of Foreign Relations.
Born in Tehran, he is fluent in Farsi and Danish. He is the author of "Iran-Pakistan: Security, Diplomacy, and American Influence" (2015) and is presently working on his second book, "The Making of Iranian Foreign Policy: Contested Ideology, Personal Rivalries and the Domestic Struggle to Define Iran's Place in the World."
 
Multinational BUsiness COnsulting in the Gulf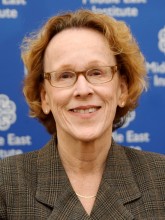 Susan Bastress, General Counsel
Susan Bastress is the Managing Partner of Patton Boggs' Doha office. Ms. Bastress advises multinational companies on cross-border, transactional business issues, providing strategic legal counsel. She leverages an extensive background in commercial transactions, real estate, infrastructure development and alternative dispute resolution in her work for architectural, hospitality and infrastructure development firms. Much of her work focuses on multinational companies seeking advice and counsel on achieving success in the Middle East region. Her understanding of the political climate in the Middle East, derived from her work on behalf of other sovereign clients of the firm, significantly augments her ability to provide sound advice and counsel to such clients. In particular, Ms. Bastress has advised multinational development companies focused on hotel and other hospitality projects.
Representative clients have included the embassies of foreign governments, an international media company, a national retail chain, the institutional investment arm of a foreign government, and the housing finance authority of a U.S. territory. Ms. Bastress offers substantial experience in alternative dispute resolution, and founded the Virgin Islands Mediation Service (VIMS), personally mediating more than 150 civil cases involving environmental tort liability, hurricane-related claims in construction disputes, and personal injury. Ms. Bastress has also served on the panels of the American Arbitration Association and JAMS, in which capacity she has arbitrated and mediated complex construction disputes.
In 2003, Ms. Bastress established Patton Boggs' Doha office, serving as its initial managing partner. Ms. Bastress also has the distinction of being the first non-Qatari attorney licensed to practice law in the State of Qatar.
The Gulf Perspective on the Syrian Civil War
Charles Lister, Senior Scholar
Charles Lister is a senior fellow at the Middle East Institute. His work focuses primarily on the conflict in Syria and on issues of terrorism and insurgency across the Levant. Since September 2016, Lister has managed the Middle East Institute's Countering Terrorism project. Prior to this, Lister also managed nearly three years of intensive face-to-face engagement with the leaderships of over 100 Syrian armed opposition groups, on behalf of the multinationally-backed Syria Track II Dialogue Initiative. 
Lister is a frequent source of briefings on the Syrian insurgency to political, military and intelligence leaderships in the United States and across Europe and the Middle East. He appears regularly on television media, includingCNN, BBC and Al-Jazeera, and his articles have been widely published in the New York Times, the Washington Post, BBC, CNN, Foreign Affairs and Foreign Policy, among others. 
Lister has previously held positions as a visiting fellow at the Brookings Institution's Doha Center in Qatar and as head of MENA at IHS Jane's Terrorism and Insurgency Center in London, UK. 
Politics of Oil in the Gulf
 Herman Franssen, Senior Scholar
Herman Franssen, executive director of the Energy Intelligence Group, is also president of International Energy Associates, Inc. He is associated with Middle East Consultants and the Yamani Centre in London, and is a senior fellow with CSIS's Energy Program. He was senior economic advisor to the Minister of Petroleum and Minerals of the Sultanate of Oman (1985-1996). He provided liaison with oil producing and consuming countries and helped establish the group of non-OPEC oil exporting countries (late 1980s). He was chief economist of the International Energy Agency in Paris (1980-1985) and the director of the Office of International Market Analysts at the U.S. Department of Energy (1978-1980).
*Instructor line up subject to change